Jewish Family Services was named the 2023 recipient of The Columbus Foundation Award. Created in 1986, The award recognizes organizations that have made a difference in the quality of life in our community. A part of the award, Jewish Family Services will receive a $100,000 unrestricted grant from The Columbus Foundation.
According to Columbus Foundation Vice President for Community Research and Grants Management Dan Sharpe, Jewish Family Services was recognized "as a compassionate source of care, support, and hope in our community. Through its many programs and services, Jewish Family Services has lifted up thousands of individuals and families, helping our neighbors achieve economic self-sufficiency, improve their well-being, and live their lives with dignity."
Through its 115-year history and its work with people of all faiths, races and socio-economic backgrounds, Jewish Family Services has a positive impact on the Central Ohio community on both a personal and an economic level.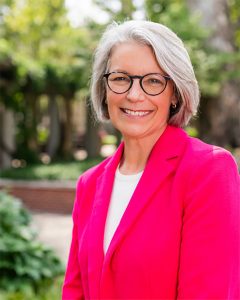 "Nonprofits like Jewish Family Services are not just do-gooders," says agency CEO Karen Mozenter. "While we do a lot of good, we are also economic engines."
That personal and economic impact is illustrated by the 630 people whose obtained new jobs last year with the help of Jewish Family Services. At an average hourly wage of just under $22.00, those individuals will earn $28.5M in the first year alone. A positive economic impact is also felt by local employers, according to Mozenter, who the agency assists to recruit, hire, train and retain workers from a diverse talent pool of job seekers ranging from entry-level to c-suite professionals.
In addition to employment services, Jewish Family Services offers a wide range of additional services designed to help individuals and families achieve economic self-sufficiency and emotional stability. The agency was one of seven nonprofits to benefit from a Critical Need Alert of The Columbus Foundation, which supported Jewish Family Services' refugee services. The Foundation has also supported Jewish Family Services' work with older adults including Holocaust Survivors, its digital inclusion efforts, and its use of technology to better connect services to individuals in need and expand services beyond geographic boundaries.
Jewish Family Services takes a holistic, integrated approach that addresses the full spectrum of challenges a person is facing.
"We couldn't do this work without our diverse, dedicated, and caring staff. The people who come through our doors are taking a difficult step, because it is never easy to ask for help," said Mozenter. "We make sure they are working with people who understand their backgrounds and cultures and speak their languages. We offer a caring and compassionate environment that preserves our clients' dignity and empowers them to achieve their personal goals."